We are grateful that our supporters have not only hosted our interactive sessions but also made an extra effort of 'gifting' us a platform to be known in the mainstream media. We acknowledge and honour their sensitivity towards our initiatives.
Below are a few article PDFs that have been published.
The Mint, 26th February 2019

Initiated and Written by Sonya Dutta Choudhary (writer with The Mint Hindustan TImes)
This connection happened directly through the magical ways of the universe. We saw a query on a Facebook group. We did not know Sonya was with a leading newspaper. She had posted a question if anyone were into Empathy training. We responded that we facilitate storytelling sessions every Sunday that evoke empathy and compassion. And then followed an official interview, photography session by a  senior photographer Ramesh Pathania and then an article.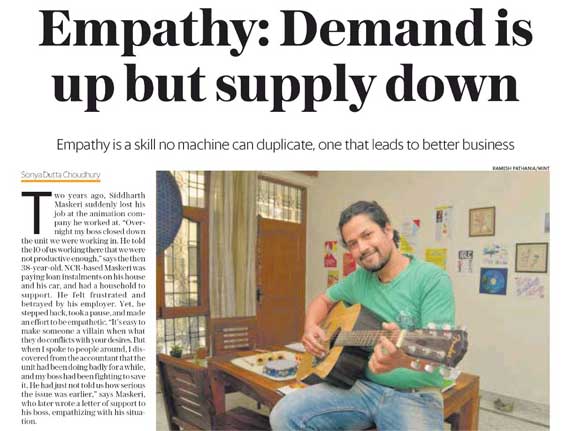 Stories Waiting To Be Told
Teacher Plus, April 2019

Initiated and Written by Sharmila Govande
Sharmila had called us one day and invited us to her learning centre in Pune. She hosted a 3 day session which was filled with participants of ages 6 to 65. And quite intuitively we were able to engage and inspire all of them to open up and share their stories and explore animation techniques. Sharmila was very happy with the session and wanted to share her experience with Azim Premji's Teacher Plus monthly magazine. This was our first article that touched upon all the dimensions of our facilitation we were exploring back then.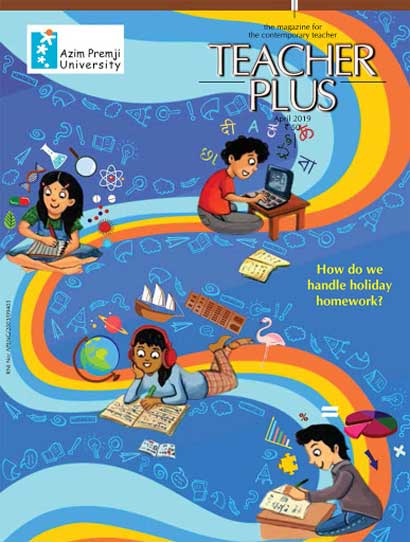 Self Belief Workshop for Drug Addicts
Dainik Bhaskar, Patna - November 2019

Initiated by Sarita SIngh
We had returned to Patna to declutter and minimize our life to what can fit into our car. The other residents of that society were curious to know about us and our life as they had found out we keep travelling without any formal income. And are still able to keep paying the rent. During these days of rich experiential sharing we met an old acquaintance Mrs Sarita Singh. She heard about us and instantly responded she would love to host our session through Inner Wheel that she is a member of. Two sessions – one with the youth who are into a Drug Rehab program and another with an old age home. Sarita ji and team were touched by our facilitation and supported us with this wonderful article.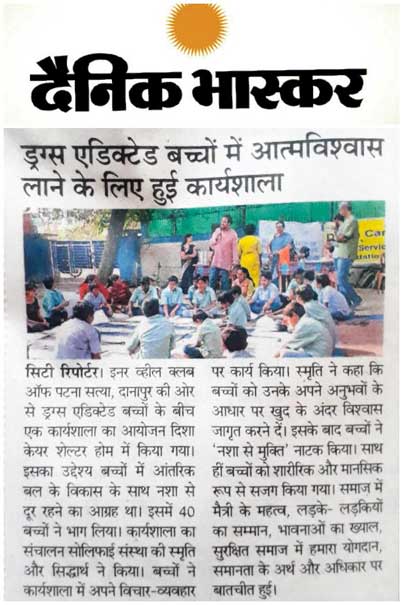 Learning the Tribal Route
Dainik Bhaskar, Patna - December 2019

Initiated by Vinay Kumar
This apparently was the first of the series of interactions at Canvas Patna that would lead up to their BodhGaya Biennale. We were invited to narrate one of our internationally acclaimed story, The Pickle Jar Adventure. The venue was housefull with children of the neighbourhood, literary scholars and experts in their own fields of arts and communication. To our surprise, there was a journalist present in the audience.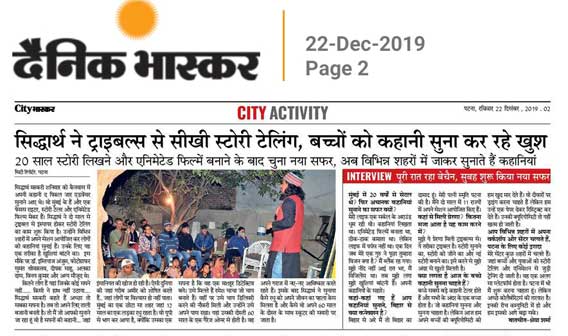 Gupshup To Inspire, May 2020

Initiated by Ranjan Kumar
We discovered GTI on Facebook. It was again a gifted connection. We shared our story with them, they loved it and said they would love to write and publish an article on our journey to inspire others.